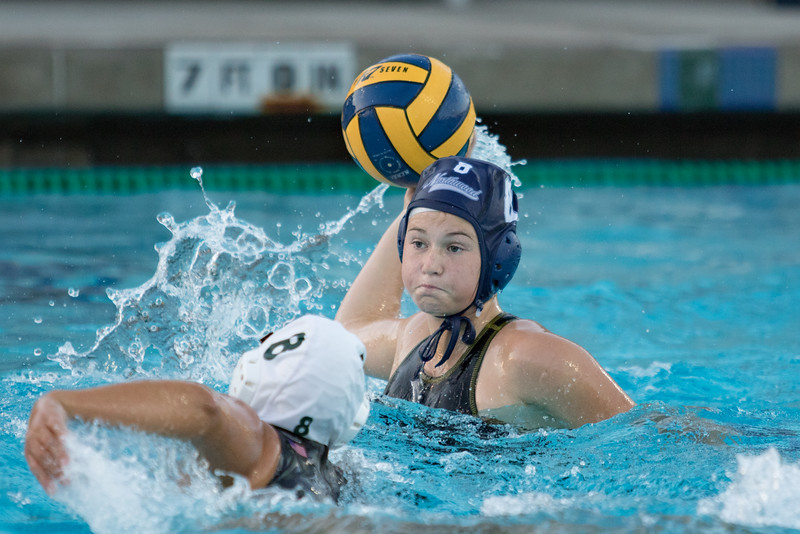 The Northwood High School girl's water polo team improved to 5-4 after defeating Buena Park HS and D5 #9 Santa Ana Valley HS.
Northwood 13, Buena Park 3

After fully recovering from an injury, Junior Jessica Serrano came out strong offensively with six goals. Junior Ashley Lee (3), Sophomore Amanda Nguyen (1), and Freshmen Sarah Buting (2) and Hannah Miller (1) added to the Timberwolve's offensive threat. Junior Hana Roushdy was equally impressive with team-leading assists (3) and steals (3). Sophomore Mrinali Umashankar provided much needed assistance in the cage with Senior starter, Katie Monjay, out for a bee sting.
COACH KYLE'S THOUGHTS:
I'm happy with the team's performance. We were seeded last in our bracket, so we were not taking Buena Park lightly. The girls put in a lot of hard work and time during their winter break in preparation for the rest of our season. That hard work clearly paid off with several girls contributing towards a decisive upset-win over Buena Park for the first game of the tournament.
Northwood 8, Santa Ana Valley 7

In a tough match up against D5 #9 Santa Ana Valley HS, Sophomore Amanda Nguyen led the offensive attack with four goals. Juniors Ashley Lee (1) and Jessica Serrano (1) each chipped in a goal, while Freshman Sarah Buting added two goals. On the other side of the pool, Freshman Hannah Miller came up big with a team-leading three steals.
COACH KYLE'S THOUGHTS:
Aside from a couple of other teams, I think this was our toughest match up of the season thus far. Any team that is in the top 10 of their respective division is going to be a difficult, experienced opponent. It's nice to see the girls playing well together after a long winter break. There are still a number of things that we still need to fix, but it's the perfect place to be before league starts up on Thursday.

Do not miss Northwood's home league opener this Thursday, January 5th @ 4pm!
[layerslider id="8″]
[/layerslider]
Are you wondering why you're seeing these logos? These are our team sponsors, featured on each blog post and on our website!
Interested in becoming a sponsor? Click here