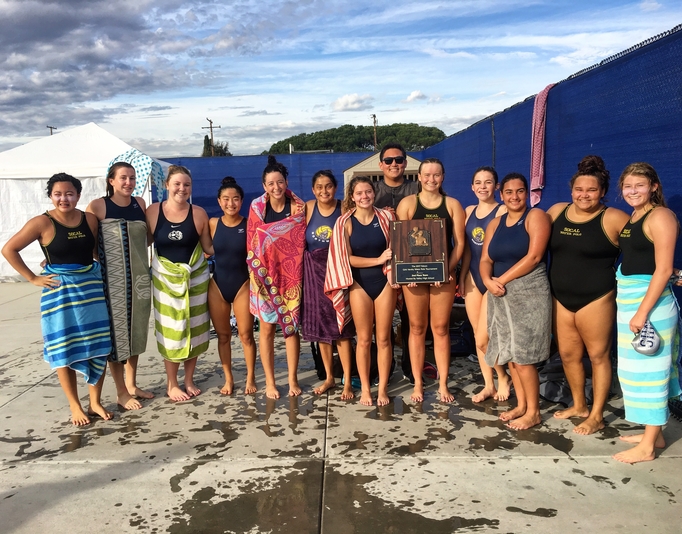 Despite graduating five starters from last year, the Northwood High School girl's water polo team defeated Kennedy and Long Beach Milikan to claim 2nd place for the second consecutive year.
Northwood 4, Kennedy 2
After a physically demanding game on Thursday and Friday, the Timberwolves barely edged Kennedy. Freshman Hannah Miller came up big with two crucial goals. Sophomore Amanda Nguyen had stats across the board with 1 goal, 1 assist, and 1 steal. Sophomore Anika Chaukar chipped in a goal to complete Northwood's offensive attack. Senior Goalkeeper Katie Monjay returned to action in dramatic fashion with an astounding 19 saves and 1 assist.
COACH KYLE'S THOUGHTS:
I knew that the girls would probably be pretty tired after playing Irvine and Granite Hills, which are known to be fast teams. I did not think, however, that we would be as tired as we were. The girls had a successful defensive game but had a lot of trouble finding their offensive rhythm. While it's nice to get the win, it did not feeling like a good win.
Northwood 9, Long Beach Milikan 3

In the second place game, the Timberwolves faced a tough Long Beach Milikan team. Northwood found their offensive mojo and had several players contribute. Freshman Hannah Miller found the net twice for the second game in a row. Junior Jessica Serrano, Sophomore Amanda Nguyen, and Senior Julianne Hopper all added 2 goals each. After missing the Kennedy game, Sophomore Paige Condy returned and added 1 goal. FR Hannah Miller had a team high 4 assists, while SO Amanda Nguyen had a team high 4 steals. Senior Katie Monjay continued her dominance in cage with 13 saves, 1 assist, and 2 steals.
COACH KYLE'S THOUGHTS:
Going into today's games, I personally felt that Long Beach Milikan was going to be a tough but even match up for us. Their team likes to push the counter, but we were able to keep up with them. By limiting their counter, it allowed our team to take advantage of their mistakes. Through better communication, the girls were able to find their offensive rhythm and it was nice to see five different players score. When you have a team that has several players that can score, it's very difficult for other teams to adjust to our offense.
I'm very proud of the girls for claiming second place in the Falcon tournament. It was a tiresome week but they persevered and it's nice to say that we were able to finish 2nd for the second consecutive year in a row despite having five new starters this year.
[layerslider id="8″]
[/layerslider]
Are you wondering why you're seeing these logos? These are our team sponsors, featured on each blog post and on our website!
Interested in becoming a sponsor? Click here