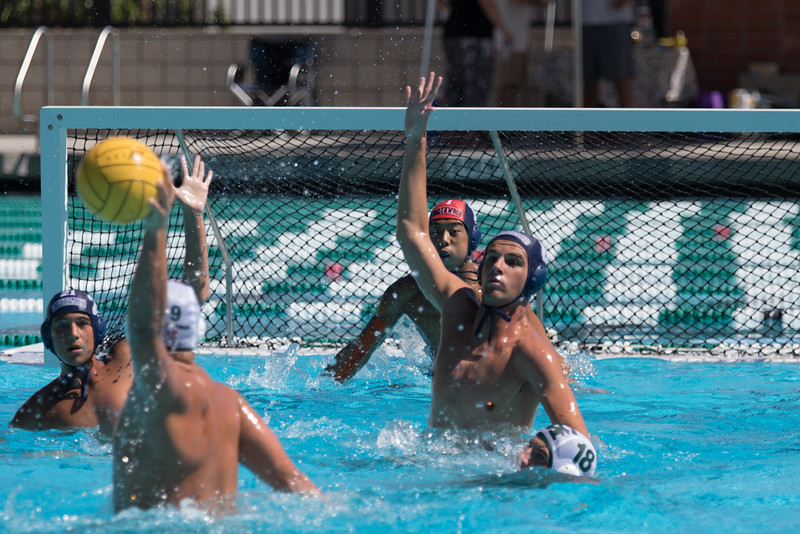 After a strong 2-0 second round of Pacific Coast League play, the Timberwolves have a vital game against Woodbridge for 3rd place and an automatic CIF bid.
During the first round of league, Northwood lost to Woodbridge 12-13 in double overtime. The Timberwolves look to revenge that loss at home for Northwood's Pack the Pool game – we hope to see you there!
Last week:
Northwood 12, Irvine 10

Senior Joe Shaw (6) and Freshman Max Abravanel (4) led the team in scoring. Juniors Collin Press and Justin Pyne each added 1 goal. JR Leon Shi came in clutch with 13 saves, while Max Abravanel made 8 outstanding steals. The Timberwolves lost to Irvine in the first round of league 6-7. With the two goal win, Northwood improves to 14-6 overall and 2-4 in Pacific Coast. Northwood remains #1 in Division 4 and moves to #4 in the Pacific Coast League.
Northwood 12, University 5

Northwood recognized its eight seniors for Senior Day: Joe Shaw, David Miller, Matthew Drucker, Teja Sadam, Hrag Barelian, Esteban Torres, Michael Lee, and Sheer Karny.
After a sluggish first quarter of 0-0, the Timberwolves responded with a 5-1 second quarter. Heading into the fourth quarter, the Timberwolves were up 9-2. All eight seniors were able to play for Senior day. Co-Captains Joe Shaw (5) and David Miller (3) led the team in scoring. Seniors Michael Lee and Sheer Karny also added 1 goal each. To round out the scoring, Juniors Collin Press and Andrew Wraith each added 1 goal. With the league win, Northwood improves to 15-6 overall and 3-4 in Pacific Coast.
Northwood plays Woodbridge tomorrow (Tuesday, October 25th) at 4pm @ the Northwood HS Aquatics Center. With a win over Woodbridge, Northwood would move to 3rd place in the Pacific Coast League.
COACH KYLE'S THOUGHTS:
Irvine is a solid team both offensively and defensively, which is why they're in Division 2. I think that our guys had first league game nerves when we first played Irvine but the guys were much more focused the second time around. We knew that Irvine was going to be a tough match up for us and I'm happy with everyone's efforts in the win.
Although University was our Senior day game, we knew that it was a very important game. They're a Division 4 opponent and they've also been ranked in the top 10 this season as well. After the first quarter, we missed several shots but I wasn't too worried since the guys were playing tremendously well on defense. The guys found their mojo and went on a 9-2 run for the next two quarters. I'm happy because the guys kept their composure and everyone was able to contribute to the win.
[layerslider id="8″]
[/layerslider]
Are you wondering why you're seeing these logos? These are our team sponsors, featured on each blog post and on our website!
Interested in becoming a sponsor? Click here