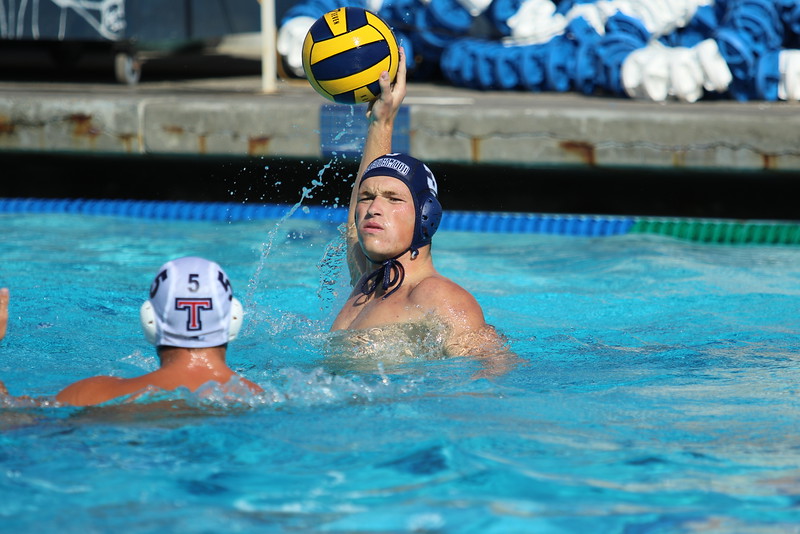 The Northwood High School boy's water polo team opened its season last week with two solid wins against Tesoro and Segerstrom.
Game 1: Northwood 14, Tesoro 7

Junior Collin Press led the way with four goals to secure Northwood's first 14-7 win of the 2016 season over Tesoro. Senior Joe Shaw and sophomore Spencer Sellwood each added three goals, while seniors Sheer Karny and Matthew Drucker each added goals (2 and 1, respectively). Freshman Max Abravanel also nabbed his first Varsity goal of his career along with an impressive team-high four steals. Junior goalkeeper Leon Shi held down the fort with ten blocks.
COACH KYLE'S THOUGHTS:
Overall, it was a great team effort. We struggled with some first-game nerves throughout the first half but found our mojo in the second half. I was impressed with how our team looked but naturally found a number of things to work on as well. Tesoro is well coached and is in our Division, so it was a nice way to start the season.
Game 2: Northwood 12, Segerstrom 9

Senior Joe Shaw displayed his dominance in the pool with nine goals to give Northwood its second win of the season. Senior David Miller added two goals, while sophomore Spencer Sellwood added one goal. Senior Matthew Drucker led the defense with two steals. Junior goalkeeper Leon Shi had an impressive performance with another 10 blocks for the second straight game.
COACH KYLE'S THOUGHTS:
In comparison to Tesoro's game, I felt that our team was very sluggish. We came out with a pretty good 4-1 start but despite the leads we had throughout the game, it felt like we were losing. I'm happy we were able to beat an opponent in a better division than us, but I was unhappy about the way that we played. I'm hoping the recovery period will prove beneficial for us when we play our next game.
Make sure to come and watch Northwood host Sonora on Wednesday, September 14th @ 4pm
[layerslider id="8″]
[/layerslider]
Are you wondering why you're seeing these logos? These are our team sponsors, featured on each blog post and on our website!
Interested in becoming a sponsor? Click here